Affiliations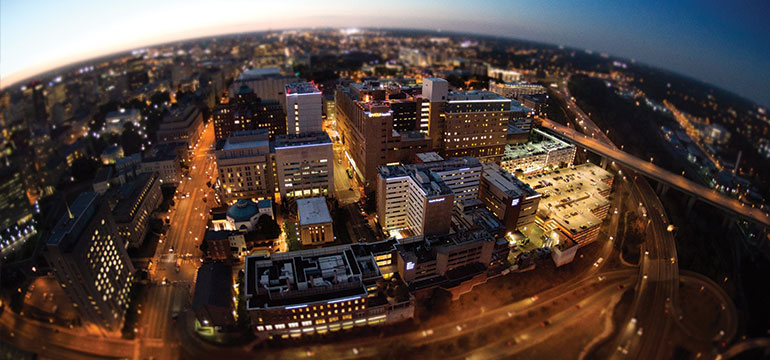 MCV Hospitals of VCU Health consists of several hospitals with a total of over 1,125 beds and 40 operating rooms. It is the fourth largest medical center teaching complex in the nation. MCVH serves as a major urban medical complex to a metropolitan population of nearly 1,000,000 people. MCVH also functions as a primary referral center for communities throughout Virginia as well as for several adjacent states. Recent additions include a total renovation of all operating rooms and the addition of a new critical care hospital and a children's hospital.
Annual admissions to MCV hospitals total approximately 33,000 of which more than 400 are by the oral and maxillofacial surgery service. There are almost 14,000 operations performed each year at the complex and more than 500 involve the Oral and Maxillofacial Surgery Division.
Outpatient visits number 161,000 yearly. Approximately 13,000 are visits to the oral and maxillofacial surgery clinic, and more than 900 visits involve ambulatory outpatient general anesthesia and sedation.
The MCV Hospitals are extremely active, handling a large volume of surgical emergencies and trauma cases. The emergency room is the largest in the United States and is the 17th busiest in the country. Of the annual 101,000 emergency room visits, 43,000 are surgical in nature and over 1,000 of these are managed by the Oral and Maxillofacial Surgery Division. The MCVH is a Level I trauma center and has two helipads and two dedicated helicopters. It is the only level I trauma center within 90 miles.
Oral and Maxillofacial Surgery also provides the housestaff with a full scope of experience in oral and maxillofacial surgery through teaching affiliations with nearby St. Mary's Hospital, a private practice hospital. In addition, our residents rotate to the private practice of Dr. Joe Niamtu, the busiest facial cosmetic surgeon in Virginia.